Sultans of Swing has always been one of my favorite rock classics. Even decades later this song by Dire Straits still manages to capture a lot of attention. The musician featured in this video is called Willian Lee and he is going to sweep you off your feet with his rendition of this timeless rock song!
This street artist from Brazil was performing in downtown Sao Paulo when a passerby managed to capture it all on tape. And boy are we glad! I'm sure Mark Knopfler would be proud if he saw this video right here! His guitar skills are mad and his voice is also quite similar to Mark's. This is no doubt one of the best covers I have ever heard!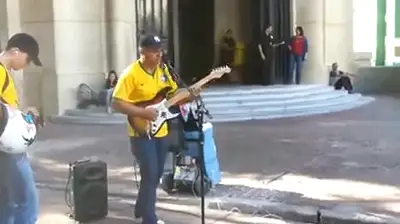 Watch his amazing performance below! Did you love it as much as I did? Share your thoughts in the comments!
Please SHARE this awesome performance!