Any sort of skill takes years to perfect. Nobody is born with talent or skill—it's something that takes a lot of effort and discipline to master. But there are some who seem to be born with it. Such special people are child prodigies who stun the world with their natural talent. One of these prodigies is Amira Willighagen from The Netherlands. She rose to fame after winning Holland's Got Talent at the tender age of 9!
She has the voice of an angel, and is known to perform some really challenging opera pieces. Even seasoned singers find it hard to sing such tunes, but Amira makes it look easy. And the best part is that she hasn't let the fame affect her in any way—she is humble as ever. This video shows her performing on the streets of Brussels with a street performer. This spontaneous performance is definitely worth a watch!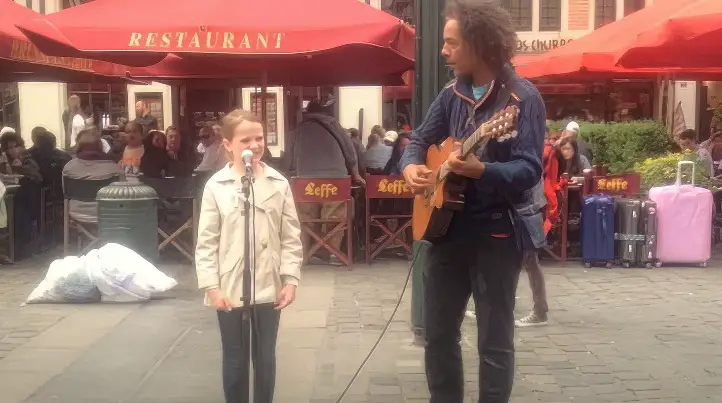 The street performer had initially not cared about her wanting to sing along with him. Only after he realized who she really was, he agreed to play with her. He was stunned by her voice, and admits to finding it hard to focus on his guitar-playing because he was so blown away by her amazing voice! They chose to perform "Ave Maria" by Johann Sebastian Bach and Charles Gounod, and it was completely breathtaking.
This performance was totally spontaneous and unplanned, yet she managed to deliver with a jaw-dropping voice. Now this is what natural talent is all about! Watch her amazing performance below and please leave us a Facebook comment to let us know what you thought!
Don't forget to hit the SHARE BUTTON to share this video on Facebook with your friends and family.