Here's a great video that shows a shopkeeper getting help during an armed robbery from the most unexpected source: a pair of shoplifters in the process of stealing food from the same store!
The video starts with the shoplifting pair already in the process of stealing–the guy at the counter is distracting the shopkeeper while the other shoplifter (not clear if it's a guy or a girl) behind him takes items from the shelves and puts them in their jacket.
But in walks a dude with a shotgun and the guy at the counter quickly hides behind the food shelves. The shoplifting pair make a quick plan and, while one distracts him by rolling a skateboard into the counter right next to the robber, the other shoplifter attacks him from behind and knocks him over.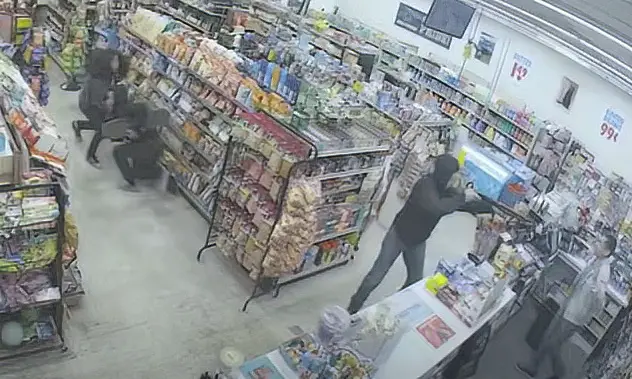 When the robber falls, he drops the gun and while he's looking around for it, one of the shoplifters turns over a rack full of food on top of the robber. The other shoplifter grabs the gun and both run out. On the way, the shoplifter tosses the shotgun to the shopkeeper, who comes out from behind the counter and holds the gun on the robber.
This is one of the wildest robbery videos on the internet. Watch the full video below and please leave us a Facebook comment to let us know what you thought!
Please SHARE with your friends and family!