Here's a heartwarming "Santa surprise" video that shows a single mother get exactly what she needs when she least expects it.
This is a video from YouTube star MDMotivator, a social media sensation with over 4 million subscribers and over 2 billion views. The man who runs it, Zachery, says that he is "passionate about raising mental health awareness, spreading kindness, and inspiring you to be the best version of you possible."
Here we see a man in a Santa suit knocking on the door of a woman, Bree-Lynn, and asking for $2 for bus fare since his "sleigh broke down." After she gives him the money, he asks why and she says she thinks it's what anyone would do, especially around this time of year.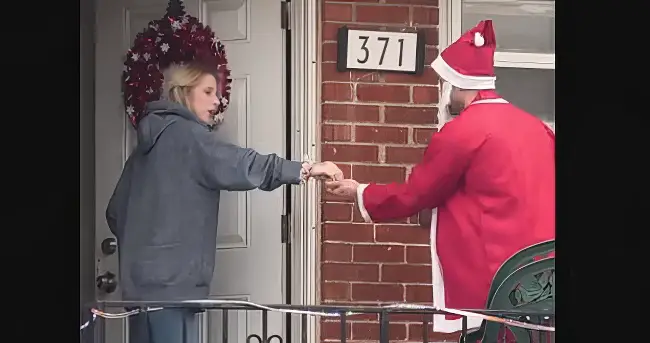 Then Santa does something Bree-Lynn is not expecting. He returns the money, then tells her he has a sponsor that wants to pay her rent. And he gives her a card that contains $2500 for Christmas.
Bree-Lynn breaks down and tells him she has four kids and due to some tough circumstances, was thinking that she may not have enough money to buy them anything for Christmas.
Amazingly, after receiving the money she says "there are probably a lot of other people in need" and that she may donate some of it. Watch the full heartwarming video below!
Please SHARE with your friends and family!