Traditional Scottish music is an important part of Scotland's culture and heritage. It is a lively, energetic and captivating type of music, usually featuring the fiddle, bagpipes, accordion, and sometimes the harp. Traditional Scottish music has been around for centuries and is still important today. Its upbeat rhythms, catchy melodies and captivating lyrics are popular all over the world.
Here's a great performance of traditional Scottish music that's sure to evoke fond memories for anyone who's ever been to this country in the northern United Kingdom. It's a great performance by "Clanadonia" in Glasgow, Scotland, and they are literally performing on the streets. They have traditional Scottish instruments–bagpipes and drums–and their tune could not scream "Scot" any louder.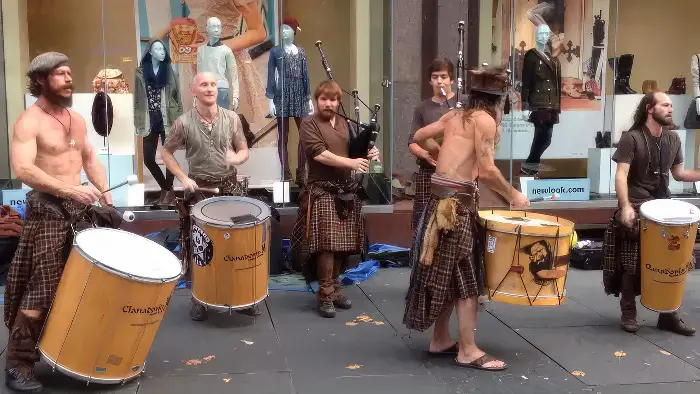 The performance is enhanced by their traditional Scottish clothing (for those that are wearing clothes!) of kilts and sandals. The appreciation towards their culture and tradition is very impressive. This is one of those performances that will give you chills down your spine in the best way possible and I loved it.
This is amazing. Watch the full video below and leave us a Facebook comment to let us know if you liked Clanadonia!
Don't forget to hit the SHARE BUTTON to share this video on Facebook with your friends and family.