You might have heard of Alicia Keys. She is a very popular singer who has won millions of hearts with her amazing voice. It's very powerful and strong, and her lyrics also touch the deepest places in your heart. She is known for her soulful songs with deep and meaningful lyrics about love and life. Some of her biggest hits include "If I Ain't Got You", "Empire State Of Mind" with rapper Jay Z and "Fallin'".
"No One" is also a hit song that has topped charts. It's about her love for another person, and you can't help but feel warm and mushy after listening to it. One thing it is definitely not is a dance anthem! Yet, the two guys in the following video decided to make a dance routine based on the song. You might be in doubt, but after watching them, you definitely won't regret it.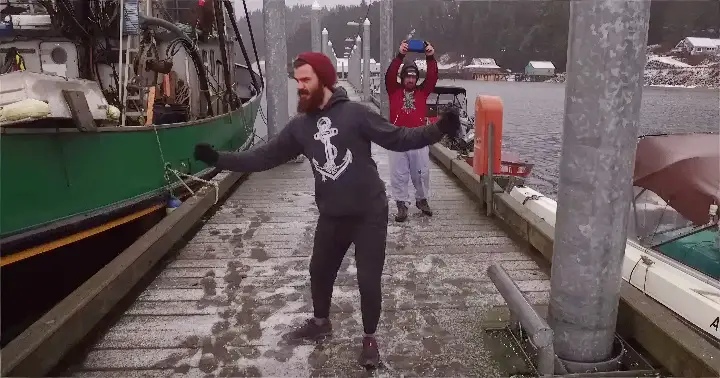 These two fishermen were at a very dark and dreary dock. It was messy with melted snow and looked really wet indeed. One of them held up a speaker that was blasting out Key's soulful song.
As soon as the music began, his friend started dancing in the most cheerful manner! The style of his dance didn't really match the tone of the song, but he somehow made it work! Well, no wonder 72 million people loved this—he managed to nail it! Watch the full video below and please leave us a Facebook comment to let us know what you thought!
Don't forget to hit the SHARE BUTTON to share this video on Facebook with your friends and family.