Pentatonix is a five–person a cappella group from Arlington, Texas, consisting of Scott Hoying, Kirstin Maldonado, Mitch Grassi, Avi Kaplan, and Kevin Olusola. They have achieved incredible success with their unique use of vocal harmonies and beatboxing, as well as their creative arrangements of both original and popular songs. They have won three Grammy Awards for their work, which includes albums such as PTXmas, That's Christmas To Me, and A Pentatonix Christmas.
The group is also known for their many collaborations with artists such as Dolly Parton, Jason Derulo, and Kelly Clarkson. Pentatonix has become a household name due to their talent, creativity, and ability to create music with just their voices.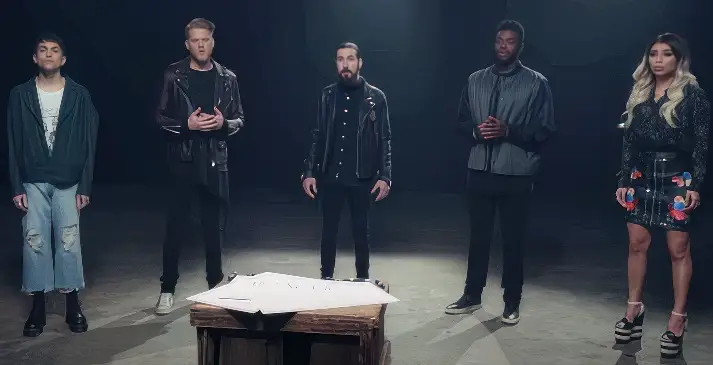 In this video, they have come up with something that not only mesmerizes people but will also make them fall in love with the message that they are trying to convey through their music. Music is can have a deeper meaning to it along with good vocals and music and this group knows how to deliver exactly that.
Their music in this video will make you fall in love with the band even more. They sing John Lennon's classic, "Imagine," which speaks of a utopian world of peace and harmony, free of religious and political divides. The song has become an anthem of hope and optimism, and it's message of unity still resonates with people today. This is amazing. Watch the full video below and please leave us a Facebook comment to let us know what you thought!
Don't forget to hit the SHARE BUTTON to share this video on Facebook with your friends and family.