Winter rescues of people stuck in snow or ice are all over the internet, but here's something you don't see every day: a man strips off his coat and shirt, then dives into ice water to save two drowning dogs.
It happened in Westchester County, New York, near Yonkers. Timofey Yuriev was walking his dog, Kira, in the O'Hara Nature Center when he saw two older Labrador retrievers crossing the lake on very thin ice. While he was watching, the dogs both broke through the ice and plunged into the frigid water.
"We heard woman screaming," said Timofey, "they tried to climb out but the ice was breaking and they couldn't. And after a little while, they just stopped moving."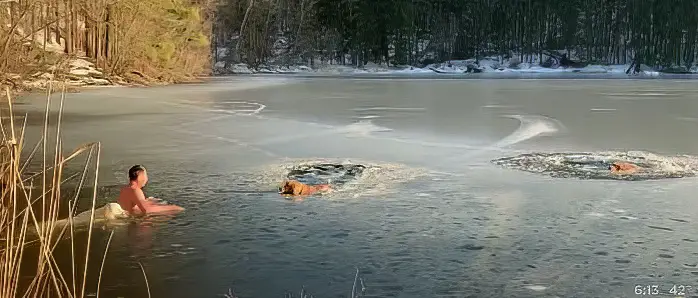 But in a bit of incredible luck for the dogs' owner, Timofey, who grew up in Kazakhstan, was familiar with swimming in icy waters because his grandfather had taught him to swim in Siberia when he was only seven!
"Those dogs were probably going to die," said Timofey. "I had no other options, I had to just go in."
Watch the thrilling rescue video below and please leave us a Facebook comment to let us know what you thought!
Please SHARE with your friends and family!