Here's a heartwarming video of an animal rescue that's a little different than we usually see because it's what happens after the rescue that's the part that makes it special.
This couple heard some crying from bushes next to their house and thought it sounded like a deer. They went close to inspect and sure enough, they found a tiny baby deer trapped in the window well for their basement.
The little fawn could not figure out how to get himself out, but what the couple did it for him: the man reached down and grabbed the deer, then put him down on the grass to find his mother, who he knew was nearby.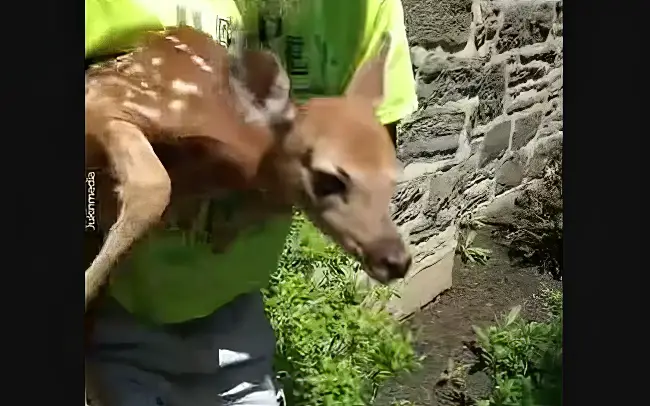 Once on the ground, the little fawn can barely walk he's so tiny. But eventually he trots toward the edge of the yard and sure enough, the mama deer comes out of hiding to claim her baby.
But it's what happens next–the mama's dance for joy at being reunited with her fawn–that really made this a special clip. Watch the short video below and please leave us a Facebook comment to let us know what you thought!
Don't forget to hit the SHARE BUTTON to share this video on Facebook with your friends and family.