As most people know by now, America's Got Talent is a popular reality TV competition series that premiered in 2006. The show features a wide range of performers, including singers, dancers, magicians, comedians, and other talented individuals who showcase their skills in front of a panel of judges and a live audience. The show has become known for its diverse and eclectic lineup of performers, who come from all walks of life and represent a wide variety of cultures, backgrounds, and genres.
And as almost everyone knows, the pinnacle of success on the show during the audition rounds is to get one a "Golden Buzzer," which launches the contestant past the next round (judge cuts) all the way to the quarterfinals. There are five of them–each judge gets one and the host gets the fifth.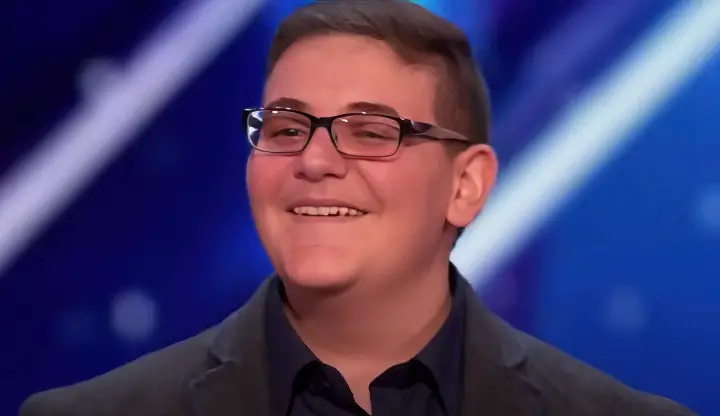 And finally, virtually everyone also knows Simon Cowell, who was one of the show's founders, is one of the toughest critics on the show. Getting praise from him, or even a show of approval, is a fine achievement indeed.
Which all makes what happened when 16-year-old Christian Guardino of Patchogue, New York, stepped on the stage and belted out the Jackson Five's "Who's Loving You" so amazing. He literally stunned the audience and the judges with his incredible voice and when he finished, Simon told him he "needed about ten seconds" to figure out what to say because he was floored by Christian's performance. And a minute or so later, Howie gave him the Golden Buzzer.
But it turn out this wasn't the greatest achievement in young Christian's life. He told the judges that as a young boy he was diagnosed with Leber congenital amaurosis (LCA), a rare disease resulting in the loss of his sight. Music became his ultimate escape and, while technological advances allowed him to regain his sight, he was still very passionate about music. Watch the amazing audition below and please leave us a Facebook comment to let us know what you thought!
Don't forget to hit the SHARE BUTTON to share this video on Facebook with your friends and family.