While fitted sheets are great in making sure that the sheet doesn't easily slip off the bed, no doubt folding it can be quite a challenge. The elastic corners create an awkward shape that prevents it from getting folded neatly for storing. Quite often, it would just scrunch up in a huge ball. Terri Metz, a grandmother, and a Youtuber can relate to this problem with the fitted sheets. That's why she decided to share "the easiest way ever" to fold fitted sheets.
The video begins with an honest introduction by Terri. She then proceeds to fold the sheet by laying it down flat on the floor first. She then slips each one of her legs into each bottom corner of the sheet while keeping both legs separately in a large gap. After that, she extends each of her arms on the top two corners of the sheet as she lays down on the floor. She mentioned, "You may be happy to lay down because you're already worn out at this point because folding sheets is nonsense." The hilarious video doesn't stop there.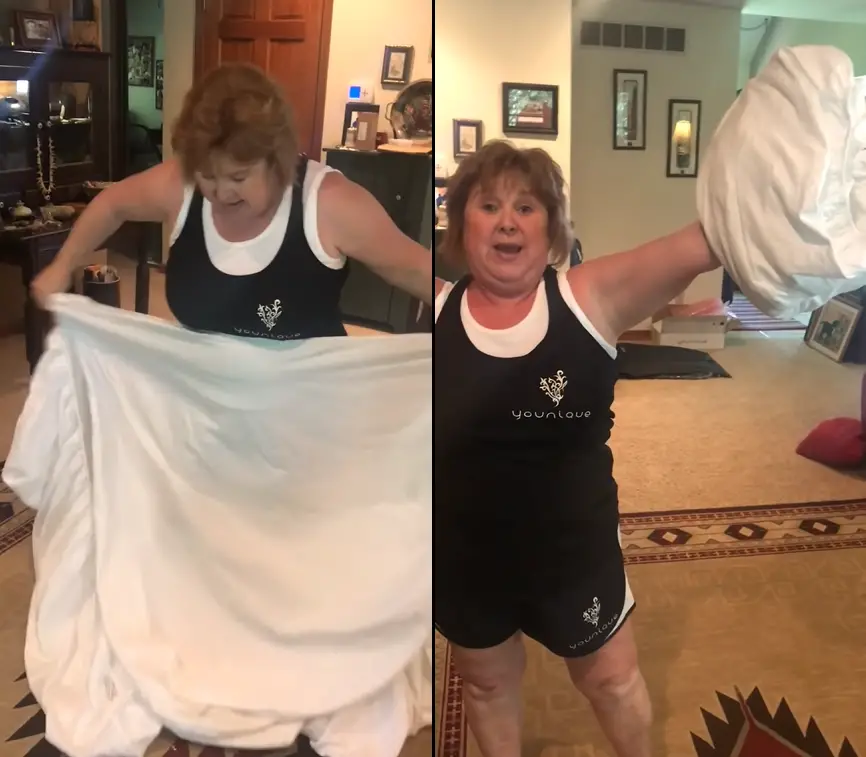 After taking a little breather, Terri demonstrates the next step by rolling over to the left side of your body and slipping one corner inside the other. At this point, Terri looks like a burrito while the person taking the video can't stop herself from laughing. Once this is done, the arms and legs will be freed, and you can slowly slip out of the fitted sheet burrito. Once successfully free, just fold the sheet twice.
"Bingo, baby! Is that not beautiful?" Terri shows off the now-folded fitted sheet in her arm, although it doesn't seem to be too different from where she started, she finishes her tutorial. Watch the full video here:
Please leave a comment and SHARE this with your friends and family!