There is probably no one in this world who wouldn't like opening surprise Christmas gifts. Apparently, not only humans but dogs too love getting surprises! Well, at least this senior Golden Retriever named Cash does!
Jay and Marie Ahonen really wanted to surprise their buddy with something that would serve him for long and would brighten him up a little. Cash was devastated because of his sister recently passed away unexpectedly. So, the Ahon3ns decide to gift him a puppy who would be perfect for both of their purposes.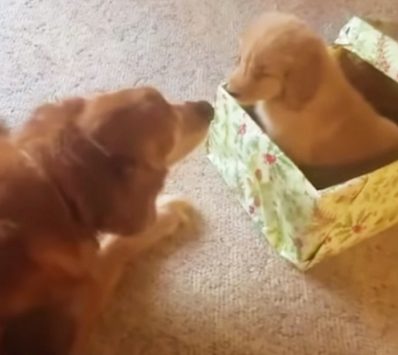 Now, Cash has someone to keep him company and Jennings, the puppy has someone to look up to! When his dad brings a box, Cash immediately senses that something is not usual. He sniffs on the box and is surprised to see it moving. Finally, he gives the sweetest reaction when his dad opens the box! He completely loses all his self-control!
I wouldn't want to ruin the adorable dog's adorable reaction for you by blabbering too much! Go ahead and watch it for yourself in the video below!
SHARE this post to make someone's day.