I love finding good stories about a rescue animals, especially animals we don't see very often. Well here's a good one about an animal that I don't post about very often and it's pretty timely given many of us are busy taking down all those Christmas decorations we spent so much time putting up a few weeks ago.
This beaver is being raised by Woodside Wildlife Rescue (WWR) after losing her parents and her home (lodge). According to WWR, adopting a rescue beaver is a long process: "Beavers need to spend 2 years with their human rehabbers. They need to have lots of opportunities to practice instinctive behaviors."
Well here's a beaver that's definitely being given some latitude to do what comes naturally: build a dam. What's funny is she doesn't really seem to care what she builds it out of–shoes, stuffed animals, and she seems to particularly like Christmas-related stuff like wrapping paper, ornaments and Christmas trees.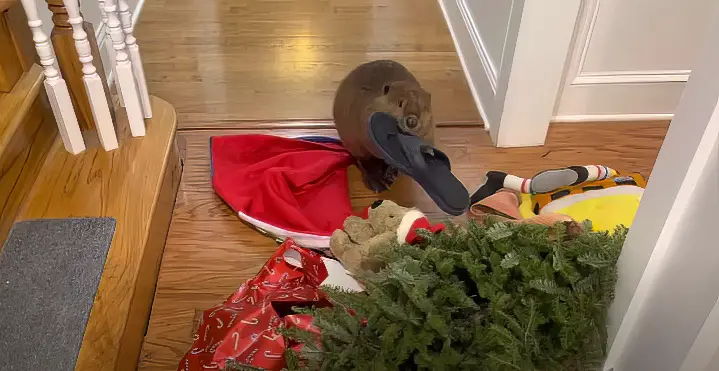 This is apparently not the first time she's done something like this. "This beaver enjoys playing this game inside the house but lives with the other orphaned beavers outside most of the time," said WWR.
I love the results and hope you do to. Watch the full video below and please leave us a Facebook comment to let us know what you thought!
Please SHARE with your friends and family!