Most of the people we encounter at transport stations are busy, and in a hurry to get to their destination. Any delays on the departure would cause a disturbance on their schedules.
But, one day, these busy people went out of their way after hearing a piece of vibrant music playing at a piano in the London Underground at the Tottenham Court Road Station. After following the music, they were shocked to see who was playing the blues – a little boy!
The little boy's name is Olivier from the United Kingdom. The 9-year-old boy was almost bouncing to his seat as he plays 'Boogie-Woogie' on the station on the station piano. At times, he would even close his eyes and lean back, showing how he enjoys the performance.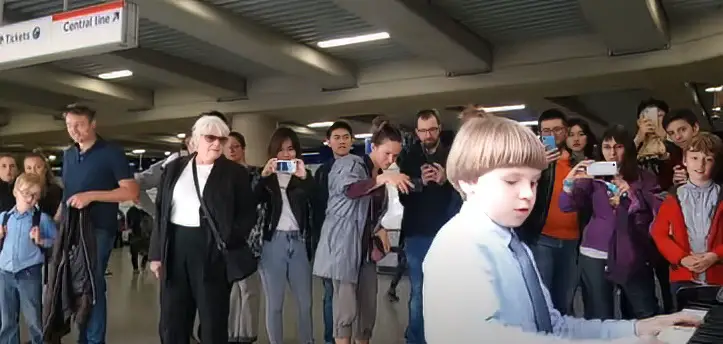 Incredibly, it wasn't Olivier's first time playing at a train station. The young boy met Brendan Kavanagh, a famous pianist known to play in the public under disguise. The two met at the St. Pancras Station when he was 8 years old, and during that time, Kavanagh taught Olivier the music. They tried a few more times and Kavanagh told him t practice for 10 minutes every day. And that led to the performance of the young boy at the Tottenham Road Station a year later.
The energetic music, Boogie-Woogie rose to fame in the 20s with the African-American music heavily influencing it. The 12-bar blues is also known to be used by pianists for practice as it is effective to help an aspiring musician to improve.
Watch Oliver wow the crowd in the video below and please leave us a Facebook comment to let us know what you thought!
Don't forget to leave a comment and share this post!