Winter can be challenging for all of us. Whether it's the cold weather or the icy ground, things just aren't as easy as they are when it's a little warmer. Here's a clip that shows just how hard–and how funny–winter can be.
Canadian Caroline Charter posted this video on YouTube and it went viral in no time because of its hilarious content. Caroline's sister Suzanne and Dad were trying to put a roasting pan in Suzanne's car parked in the driveway, which was covered with ice.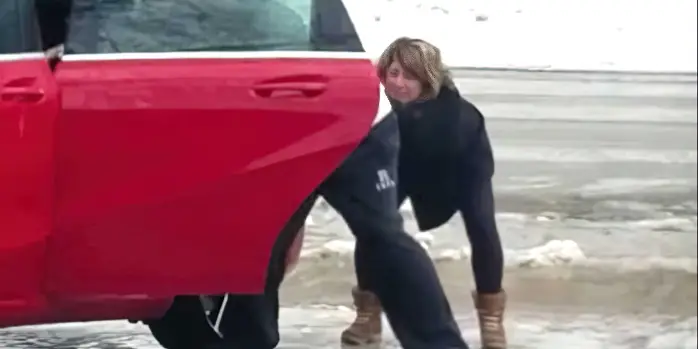 As the father and daughter try to make it out of the snow, their hilarious struggle is undeniably funny. Caroline's mothers' hysterical laugh just makes the video even funnier. Charter even names the video "Canadian Driveway Ice Hysterics" and put out a ringtone with Mom's laugh!
This is one of the most wholesome videos on the internet. Watch the full video below and please leave us a Facebook comment to let us know what you thought!
Don't forget to hit the SHARE BUTTON to share this video on Facebook with your friends and family.