Here's a repost of a story we did a couple of years ago–before Joe Exotic and his wild animal farm had become an internet sensation and eventually the Tiger King laughingstock on Netflix. We thought it might be fun to bring it back up.
Lions are natural predators, especially for little bouncy live things like a dachshund. And surprisingly for some people, dachshunds are actually hunters too, bred to protect from burrowing animals such as badgers. Here is how things went when these dogs met this lion at Joe Exotic's wild animal park near Wynnewood, Oklahoma.
Joe Exotic, aka Joseph Allen Maldonado-Passage (or Schreibvogel, which was his birth name) was a native of Garden City, Kansas, and ran the  Greater Wynnewood Exotic Animal Park (also known as the G.W. Zoo) in Wynnewood, Oklahoma, from 1998 to 2018.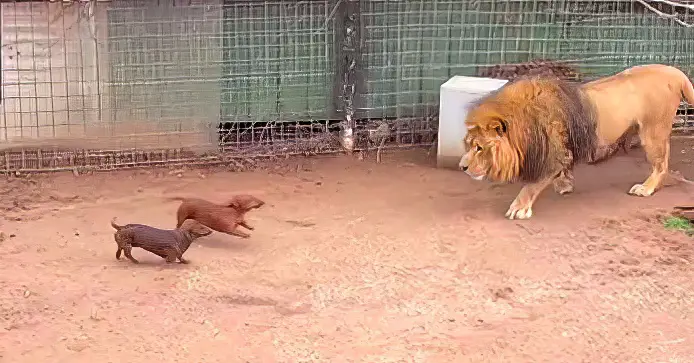 We all came to know Joe as a "great cat" trainer (and bizarre musician) during Covid when the Netflix series about him quickly became a worldwide phenomenon.
What we didn't know was this cute little story about the parks resident dachshunds and "Bonedigger" the lion. This is a heartwarming story about animal love that you need to see to believe.
Watch the full video below and tell us your favorite Joe Exotic story in the Facebook comments.
Don't forget to hit the SHARE BUTTON to share this video on Facebook with your friends and family.