Dogs have the ability to perform numerous things. Dog dancing is also one of those things, in case you didn't know. In this video, you'll watch a woman dancing together with her dog. She recorded herself dancing as her dog joined along!
It takes a fair amount of patience and time to train the dog. Emily and her dog have been working on it for quite some time, and their bond makes them excellent dance partners. She also posts videos of them dancing together on Youtube.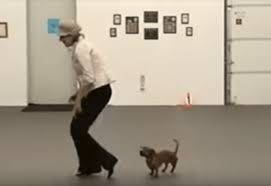 Emily and her dog, Henrietta have an excellent bond making them great dance partners. Not only does she want to show off how good her dog can dance, but she also wants to show others that they can teach their pets to dance.
Well, while dancing with a dog, it doesn't matter what kind of music you play as long as there are lots of treats available. Watch this amazing video below and let us know your thoughts in the comment below!
Please SHARE this video with your friends and family!
What do you think?