It is always wise to approach animals with great caution. You never what kind of mood is driving them, and the aftermath of the actions can be deadly. This should not come as a surprise; hitting anyone munching down on snacks never goes well.
Wild horses are not well acquainted with humans. Hence touching them can be pretty risky. But when you use violent force through a tool is just inviting trouble. The scenic beauty of Assateague Island attracts many wild horses. A renowned destination for tourists, the coast of Maryland and Virginia has witness myriads of incidents. However, this particular happening garnered the attention of many.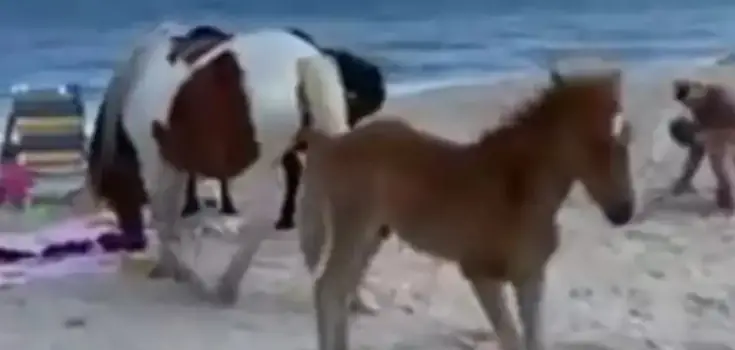 Every tourist has to play their part and abide by rules. And the first rule around will animals is never to bother them. It's a no-brainer. But this particular tourist denied all the consequences of breaking such the number one rule. In the clip, you can see the tourist using a shovel to hit the wild horse. Seconds later, the stallion strikes back with a powerful back kick, and down goes the lady. She got instant karma for her actions. We can even hear bystanders tried to preclude the outcome.
"They're going to kick you.", a beachgoer shouted. 
But the woman ignores and proceeds only to face the horrible outcomes.
Kindly share this video with your loved ones—a short guide on what not to do around wild animals.