As we know, retirement homes are not exactly a fun place to be. And especially if veterans end up at one. Their troublesome war journey haunts them most nights during old age. But right when these veterans thought there is no ray of happiness, this young boy joins in to make everyone's life merrier.
Staying alone for years with other people with similar experiences can get depressing. So when Aidan Knaus visits them at the St. Cloud, Minnesota, Veteran's Administration Medical Center, they instantly fell in love with him. 13-year-old Aiden was a charming kid since his childhood, and he found a position that could perfectly work for him and others. His mom calls him a "gift of gab," and watching this video; he rightfully proves so.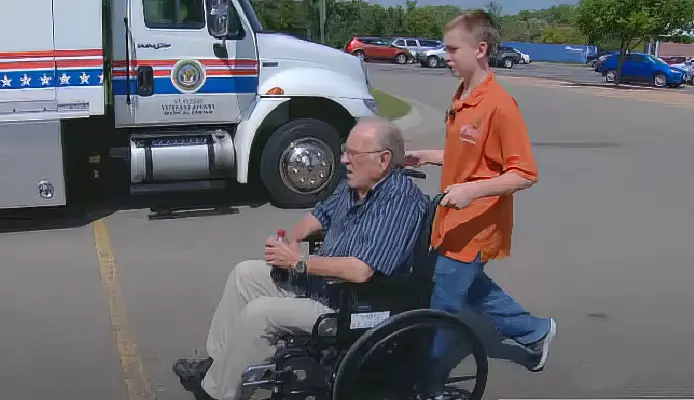 The video shows that he loves spending time with these older adults. He listens to their amazing life experiences and charms them with his witty remarks. Also, he proves that the age gap does not matter, and you can get along with almost anyone.
Being a teenager, he has a very different outlook on life, and we wish more teenagers spend time with their grandpas and grandmas. Nobody likes feeling lonely, and we need to do everything we can to reach out to our loved ones.  Watch the video below and please leave us a Facebook comment to let us know what you thought!
Don't forget to hit the SHARE BUTTON to share this heartwarming video on Facebook with your friends and family.