Armies serve their countries by putting their own lives at risk. Many soldiers lost their lives while saving their countries from war.
One such incident happened and a fallen soldier was being taken home from Germany. Delta Airlines made an announcement about the armies approaching and taking off first as they had the remains of the fallen soldier. Upon knowing this, a high school choir that was also on the flight decided to sing "Glory Hallelujah".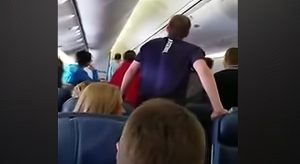 This song was a tribute to the brave soldier who lost his life while fighting for his country. The students were actually a choir group and they did not disappoint to lift the souls of the rest of the armies. Their gesture melted the hearts of all the passengers on the flight.
This is one of the most heartbreaking videos on the internet. Watch the full video below!
Please SHARE with your friends and family!