Growing up, we all saw people showcasing intense, cool moves on inline stakes, aka roller blades. Primarily these roller skates were used to train hockey players on solid grounds. However, nowadays, inline skates are parts of renowned international and national competitions.
The clip below is a visual of how individuals have learned to manipulate the blades without losing their balance. Klaudia Hartmanis is a famous name in the world of roller skates. She has a few titles under her belt. Hence, it is safe to say. She is quite the champion when it comes to gliding in her blades.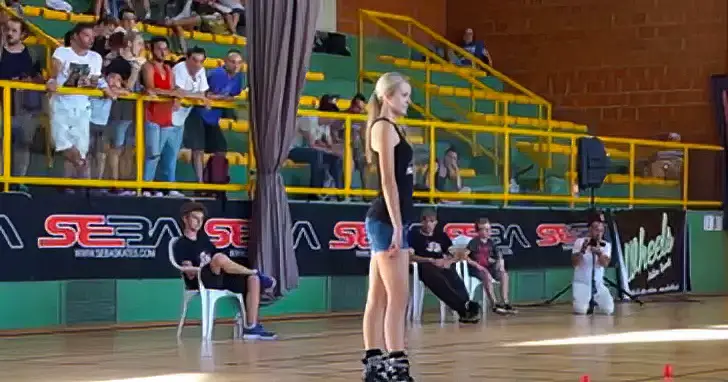 Originally from Poland, Klaudia begins practicing the inline stakes at the age of 13. The years of efforts come alive in her freestyle acts. She enjoys freestyle Inline Salolm Skating. According to the skater herself, it enhances her style and provides enough reign.
The woman glides on the surface, passing every slalom cone like it's no one's business. Furthermore, her footwork is pretty remarkable. In her act, we also get to witness her balancing her whole body in her toe, a ballet-esque move. She even slides as she sits on her leg and keeps sliding with a massive smile on her face. Hartmanis makes it look effortless. However, we all know, it did take her years of practice to pull it off.
Watch the full video below and please leave us a Facebook comment to let us know what you thought!
Don't forget to hit the SHARE BUTTON to share this video on Facebook with your friends and family.