Bridesmaids, as well as groomsmen, have a lot to do at a wedding. Sometimes, they have more work than the bride and groom themselves. Well here's a sister that obviously thought a LOT about what she was going to say ahead of time.
A hilarious video of a maid of honor went viral on the internet and everyone is loving her. This maid of honor goes by the name Mel. Mel has an elite sense of humor. Her sister Heidi and her brother-in-law David know exactly what's coming as soon as the maid of honor holds the mic.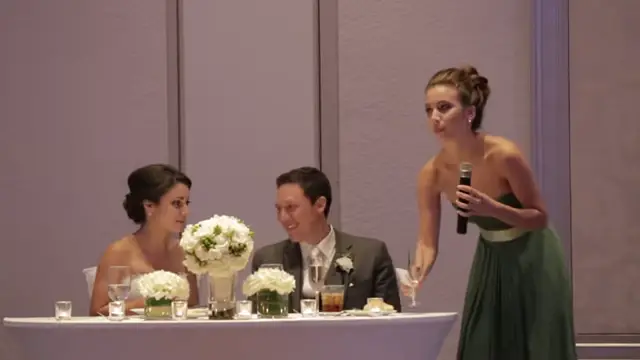 Heidi keeps hiding her face to embarrassment and hilarity while her husband has a big smile on his face all along. Mel can surely make a good career out of her sense of humor. She sure is very wicked and sarcastic with most of the things she says. The guests love her to every bit.
This is certainly one of the funnier maid-of-honor-speech videos to watch on the internet. Watch the full video below and please leave us a Facebook comment to let us know what you thought!
Don't forget to hit the SHARE BUTTON to share this video on Facebook with your friends and family.