It's an old lesson, the subject of many fairy tales: believe in something or someone and your belief will surely make a difference. Here's an unlikely story that proves that type of belief works in real life, too.
11-year old Breana Carsey of Ohio always had a dream: she wanted a brood mare, a "mommy horse," who would give birth to a foal that she would raise into a racing champion. Of course, she didn't have a farm, didn't have a horse and didn't have much hope of getting either.
But eventually Breana's mom and dad relented and got her that foal as a pet: an Ohio Standard bred that she named "MJB Got Faith" for the faith she had in him. But it was a runt, not a racing horse, and no matter how much they explained he was not a racer, Breana stuck to her dream. So Dad did the only thing he could think of: put him in a race, knowing he would lose.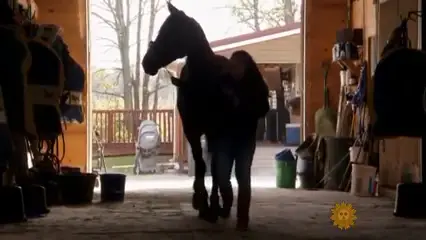 The problem was, MJB didn't know he was supposed to lose. Even though he was so slow he barely qualified for the race, once the starter pistol went off, MJB trotted right to the front and won his first race. And his second race. And his third and fourth, which qualified him for the state championship.
And so it was that a runt horse, a little girl's pet, was racing in the Ohio Sire Stakes Championship based seemingly on pure faith from his owner.  See how MJB did in the video below.
This is amazing. Watch the full video below!
Please SHARE with your friends and family!