Nothing is impossible when you put your heart and soul into it. This video teaches an important lesson to all of us.
The horse in this video is one of the cutest animals ever. Nothing really made me happier than this little horse. He is so brave and his willpower is very praiseworthy. He does what most people would not imagine doing had they been in his position. This horse made me very proud as a human being.
The horse goes by the name Rooz. He was born with medical problems which made him disabled and suffer from dwarfism.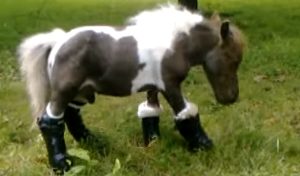 However, with some special corrective boots for his front legs and supportive wheels for his back legs, Rooz learned how to walk. The little horse really will make your heart melt because he is just so strong and committed to doing what he wishes for. We can tell that Rooz wants to be able to walk very badly.
And we are happy he is finally able to live a normal life. Watch the full video below and please leave us a Facebook comment to let us know what you thought!
Please SHARE with your friends and family!