Here's a video where luck played a great part in averting a disaster! It could have taken a lot of lives in the next few seconds. The scene on the road was really horrible when a car caught fire while running.
The incident happened on the street of Guaiba, Brazil. It was a shock to the people driving their vehicles on the busy road. However, the accident was from getting out of control by the fire truck passing by at exactly the right time. The moment firefighters realized the situation, they stopped and extinguished the fire.
The reason is unknown still, but there was no loss of life, and just the vehicle would need the repair due to the fire. People were seen running in panic, on the street.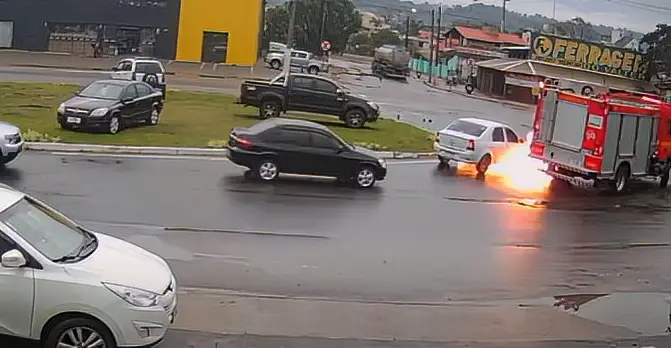 The whole instance was caught on CCTV recording, which clearly indicates the seriousness of the moment where anything could have happened.
However, with the alertness of the firemen, it was saved. It was all in time that could make things better on the occupied road where lots of conveyance run simultaneously. Instantly the fire was put off, and people were saved, by the timely action of the fire officers.
Watch the full video below and please leave us a Facebook comment to let us know what you thought!
Share and comment on the real and spontaneous actions of the brave firemen.