Nobody thought this two-week-old street kitten was going to make it–she was just too far gone and didn't trust humans to take care of her. Then she met Lilo the Husky, who nurtured her and helped her get strong. Now the owners say the cat is the leader of the pack!
Sisters Thoa, Tram and Thi have been cat rescuers as long as they can remember. So when they found little Rosie the kitten on the street, they immediately took her in and tried to help. But Rosie refused to eat and shied away from all contact.
One night shortly after they got her, Rosie took a turn for the worse. So the sisters put her with one of their two Huskies (Lilo and Infinity, or "Fini" for short) and it turns out the companionship was exactly what Rosie needed. Lilo began mothering Rosie and soon she was drinking milk and eventually made a full recovery.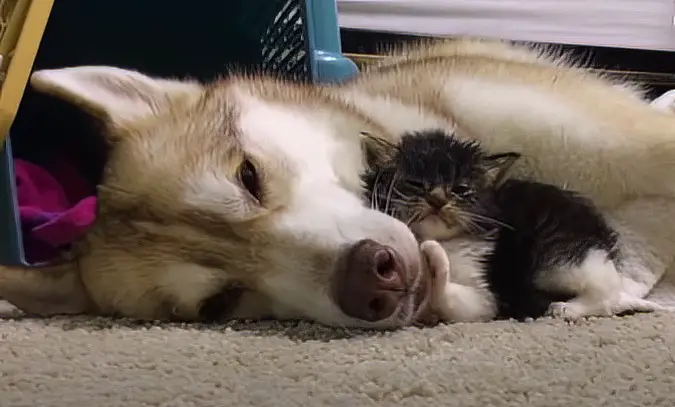 So much so that Rosie saw Lilo as her mother, which caused a problem for the sisters. They rescue a lot of kittens and they had a rule they could not keep them or they wouldn't have room for new ones. So Rosie would have to go up for adoption.
But they quickly realized Rosie and Lilo could not be separated, so they decided to add one cat to their Husky pack. Now Rosie acts like she's the leader!
This is truly a heartwarming story. Watch the full video below and please leave us a Facebook comment to let us know what you thought!

Don't forget to hit the SHARE BUTTON to share this video on Facebook with your friends and family.