A Sierra Nevada, California, couple was out walking their dog on their own acreage in a place they called Saddle Ridge for its distinctive shape. And sticking up out of the ground was an old can. The couple, known only as "John" and "Mary," said that after walking past it many times, they began to wonder if maybe someone was buried there.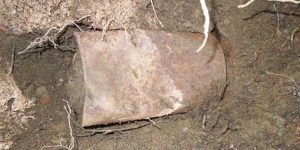 "We thought the can might be a place for someone to put flowers in for a gravesite," John said. So they started to dig around the can to see what they could find.
By the time they were done, they had found eight cans containing 1,427 gold coins. And not just gold colored coins, actual gold coins. They were old U.S. gold coins, minted in San Francisco between 1847 and 1894, whose face value alone was $28,000 (over 100 years ago!).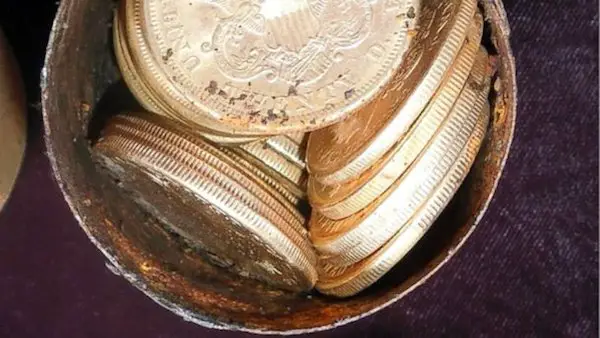 But here's what might be the best part of the story. Before taking them into town to see what they were worth, they buried them in a cooler underneath their woodpile! According to John, "Yeah — the old-timers had it right — it's safer than in a bank!"
Once they brought them into town, they were shocked at what they discovered. One of the coins was 1866-S No Motto Double Eagle–which was worth about $1 million all by itself. The total stash was worth about $10 million! They have to be one of the luckiest couples ever.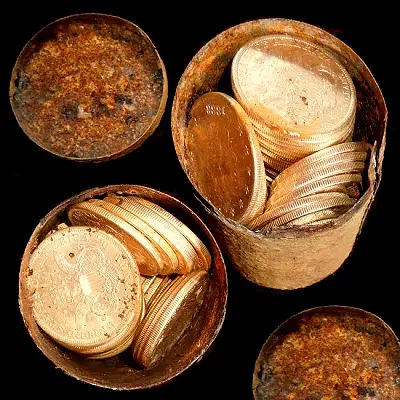 They decided to keep some of the coins, sell some and donate some of their windfall to charities.
Shortly after the find, however, there were stories that the coins may have been embezzled from the San Francisco Mint by an employee by the name of Walter N. Dimmick. The mint clerk served prison time after an audit found 1,500 coins missing from the mint vault. He denied any wrong doing.
But later the U.S. Mint said it has no information linking the coins to "…any theft(s) at any United States Mint facility," adding, "…at this time we do not intend to investigate…."
So the couple's luck continued!
Don't forget to hit the SHARE BUTTON to share this video on Facebook with your friends and family.