Most people at an old change would just stay at home and sit. Preventing extreme movements to make sure that their body doesn't ache at the end of the day. But age cannot stop this 90-year old woman from doing what she loves – dancing. Jean Veloz is a dancing legend of the Hollywood-style Lindy swing. She started dancing when she was in her 20s after their family moved to Los Angeles and she entered a contest at the American Legion Stadium, earning a Screen Actor's Guild membership. She had a big role in the swing dance craze in the 40s that lead her to appear in movies such as "Swing Fever".
In 1981 though, it seemed like she stepped out of the limelight when her husband and dance partner, Frank passed away. 11 years after, a documentary was made about swing dancing, and a dancer talked her into going back on the dance floor. And she can't stop dancing again. In 1996, she became a part of the renowned California Swing Dance Hall of Fame.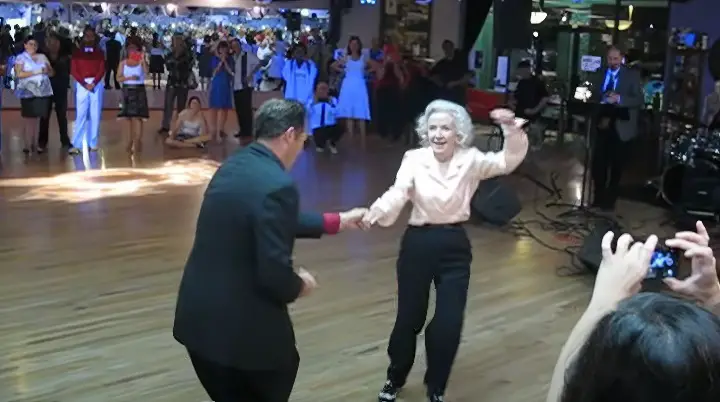 Years after, a video was uploaded on YouTube and became viral, Jean and dance instructor Steve Conrad of the Arizona Lindy Hop Society showed their flawless moves on the dance floor as if the two have been dance partners for years! It was even said that it was one of the most impressive dance routines she did as she glides effortlessly on the dance floor.
It's been decades since she started dancing, and it looks like she does not have any plans on stopping soon. Because, even in her 90s, she still dances like she is in her 20s. Watch the full video below and please leave us a Facebook comment to let us know what you thought!
Don't forget to hit the SHARE BUTTON to share this video on Facebook with your friends and family.