Most of us have seen the Christmas classic It's a Wonderful Life, probably many times over. Here's a video where real life imitates the appearance of Clarence, a guardian angel, on the bridge just before George Bailey goes into the water.
Off-duty police Lt. Tabatha Merrell was dressed as Mrs. Claus, white wig and all, for a holiday parade in Fredericksburg, Virginia. While heading home, she spotted a young woman who she thought was about to jump off a bridge.
"I noticed that the young lady had not only her upper body over that railing but she had her left leg over the railing as well," said Merrell. "I knew right away it was an emergency."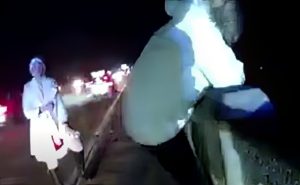 With the help of Sergeant Aimee Lynch, she pulled the woman to safety. Although she's been compared to Clarence, George's guardian angel, Merrell says she's actually never seen It's a Wonderful Life. Well that's a shocker, considering this scene could have been pulled from the movie!
Watch the full rescue video below and don't forget to leave us a Facebook comment letting us know how you liked it!
Please SHARE with your friends and family!