The walrus is one of the largest animals ever. Have you ever seen a walrus do human stuff?
Well, if you haven't, you are really missing out on a lot. This is one of the best and most hilarious videos you will ever watch. The fact that this walrus really knows how to work out and do things that most humans can do but animals cannot do, will shock you to the core. This walrus does not even seem like your mediocre walrus anymore.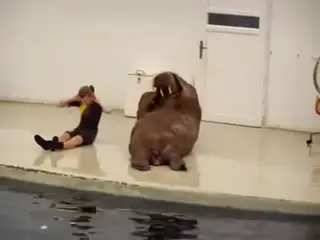 This video made me gag out loud and it will make you react the same way as well. What does this walrus not know? We doubt there is just anything he does not know. He does sit-ups and whatnot. There really aren't many animals who are quick learners like walrus.
This is amazing. Watch the full video below!
Please SHARE with your friends and family!