When this man in the video was out for an afternoon drive in his car, he saw a beautiful brown mare standing still on a wooden bridge. He noticed that the horse was motionless, but he could also see that she was looking down at something small and white. He soon came to realize that the tiny form beneath her was her foal. And the foal was stuck.
The poor thing was stuck in an unsafe position on the bridge. He looks helpless and frightened and his mother looks just as anxious as him. The mama could do nothing for the little foal except stand by his side. Thankfully, the man got out of his vehicle and decided to help them out. When you see the ending of this clip, you are going to be moved!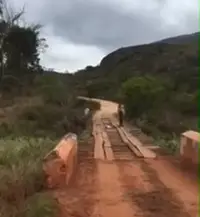 Watch the video below! Did this touch your heart? Let us know how your thoughts about it in the comments section!
Please SHARE this heartwarming clip with your families and friends!