Peacocks are one of the most beautiful birds on the whole planet. Their beautiful feathers are hypnotizing, aren't they? Most peacocks are born with colorful iridescent feathers, but most of them are totally different. Some peacocks tend to completely lack color in their plumage because of a genetic mutation called "leucism".
But despite lacking color, these white feathered peacocks are just as majestic as their colorful counterparts. Just take a look at this video captured below! It shows a white peacock dancing in a park. What a stunning display this was! Peacocks usually do this dance in order to attract possible mates. I could watch this for hours!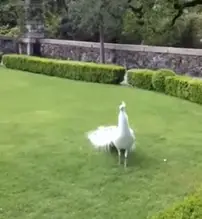 Watch this fabulous bird below! Have you seen a white peacock before? Let us know what you think in the comments!
Please SHARE this amazing clip with your families and friends!!!