As beautiful as this world and the people that live in it are, it's still dangerous. In just a blink of an eye, anything can happen, just like in the video below.
A woman enters a cell phone store in California. She is carrying one baby in her hip, and the other one is a few inches away. As the mother stands by the door, her 4-year-old daughter has fixated herself by the candy machine. And just then, a man grabs the 4-year-old and runs.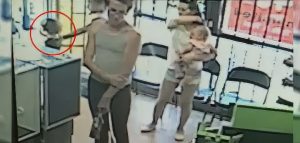 The surveillance footage shows the man grabbing the kid right from the door. The mother then runs after the kidnapper to save her baby. The mother later told the police that she saw the man in the parking lot. And he was keeping a close look at her from the beginning.
The man was later caught by the police and was identified as 24-year-old man Terry Ransom. Thankfully he lost his grip on the girl and struggled to getaway. And the people around held him until the police arrived.
WATCH the horrifying video below and please leave us a Facebook comment to let us know what you thought!
Don't forget to hit the SHARE BUTTON to share this video on Facebook with your friends and family.