A lot of people are not fans of airports. It is a strict place where you can't do as you please, and this irritates some travelers. The invasive security procedures, and the often uncaring airline policies are only seen as inconveniences. However, one airport employee has taken it into his hands to lighten up travelers' mood, even if just by a little margin.
Country music singer and songwriter Terry McBride was on a Southwest Airlines flight from Rochester, New York, to Nashville, Tennessee, when he managed to take this video. As his plane was about to take flight, Terry looked out his window and noticed a runway employee.
What captured his interest was how the man was directing the plane out of the gate. The "Tarmac Dancer", as he's come to be known on social media, says he is shocked by his sudden viral fame.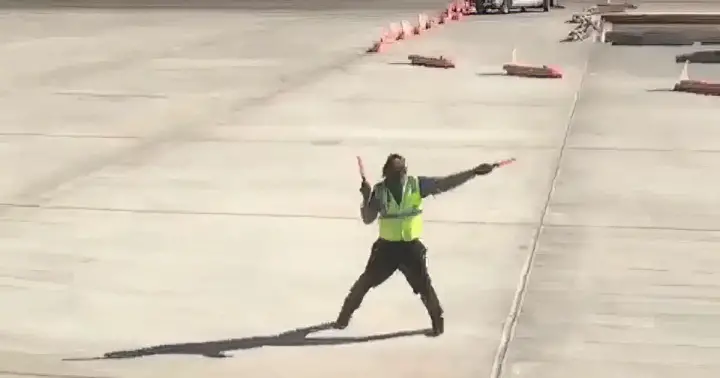 His name is Kyran Ashford, and he has worked at the airport for five years. He is employed by JetStream Ground Services, which works for Southwest. Along with his uniquely fantastic moves as an air marshal, Kyran is also famous for wearing a giant red-white-and-blue top hat and issuing the boarding instructions to customers as a rap.
Watch the fun video clip below and please leave us a Facebook comment to let us know what you thought!
Don't forget to hit the SHARE BUTTON to share this amazing video on Facebook with your friends and family.