As pandemics grew, and we are forced to stay home, this video bombing our kid's routine has become many parent's jams. But nobody slew the video bomb as this dad did.
In a humorous video bombing incident, Mike Jones covertly filmed his daughter's dancing video. As his two daughters dance in the forefront to 'Watch Me (Whip Nae/Nae)', their father hides behind them. And without making any sound, he goes on delivering an excellent routine.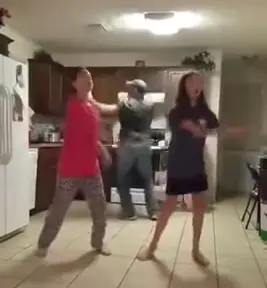 Their daughter was really shy to be on the camera but not the dad, Uh uh! He is in his own world, giving his best moves. But when his kids turn around, it becomes even more hilarious.
Watch them on this video:
Please SHARE it with your friends and family.