Take a moment to watch the captivating performance in the embedded video. The performer is Kylie Frey, a 28-year-old contestant from Opelousas, Louisiana, who appeared on the popular TV show America's Got Talent. A former rodeo queen, Kylie grew up singing the national anthem at rodeos, a path that mirrors the early career of country music legend Reba McIntire. Kylie's dream has always been to follow in Reba's footsteps, and her performance on America's Got Talent is a significant step towards achieving that dream.
In the video below, Kylie delivers a heartfelt rendition of her original song, "Horses in Heaven". The song, a touching tribute to her grandfather, showcases her powerful vocals and her ability to convey deep emotion through her music. Despite the emotional triumph of her performance, it wasn't without controversy. Judge Howie Mandell expressed his dislike for the song, causing a bit of a stir among the panel.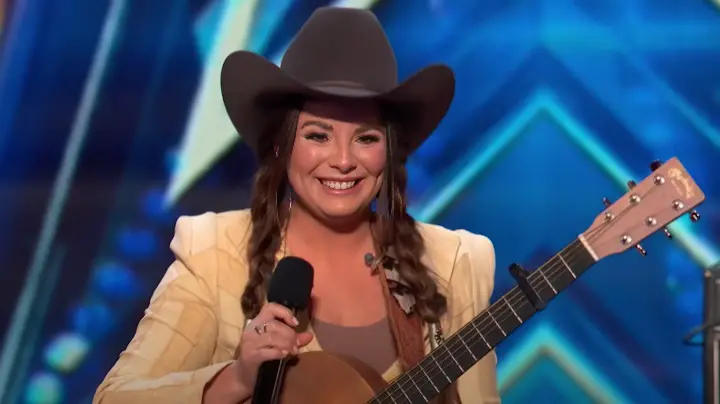 While Howie's critique might have dampened the mood, fellow judge Simon Cowell was quick to lighten the atmosphere. Simon playfully booed Howie during his critique, adding a touch of humor to the situation. Despite Howie's negative feedback, the other three judges were moved by Kylie's performance and gave her their yes votes, allowing her to progress in the competition.
It's worth noting that Kylie's journey is reminiscent of Reba McIntire's own rise to fame. Reba was "discovered" after she sang the national anthem at the National Finals Rodeo, much like Kylie's beginnings. With her talent and determination, Kylie Frey is certainly one to watch. Whether she will reach the heights of her idol Reba McIntire remains to be seen, but her performance of "Horses in Heaven" is a promising start. Watch the video below and please leave us a Facebook comment to let us know what you thought!
Don't forget to hit the SHARE BUTTON to share this video on Facebook with your friends and family.