As you'll see in the video below, an emotional tribute was paid to the late Sinead O'Connor during a July 2023 concert. The renowned singer Pink, known for her powerful performances, invited her friend and opening act, Brandi Carlile, to join her on stage. Together, they delivered a heartfelt rendition of O'Connor's iconic song, "Nothing Compares 2 U." This song, originally penned by the legendary Prince, was propelled to global fame by O'Connor in 1990.
The song "Nothing Compares 2 U" holds a significant place in music history. It's not just a song, but a testament to the raw emotion and vocal prowess that Sinead O'Connor brought to the world of music. Her rendition of the song has since become the #11 global top music video of all time on YouTube, a testament to its enduring popularity and the impact of O'Connor's unique interpretation.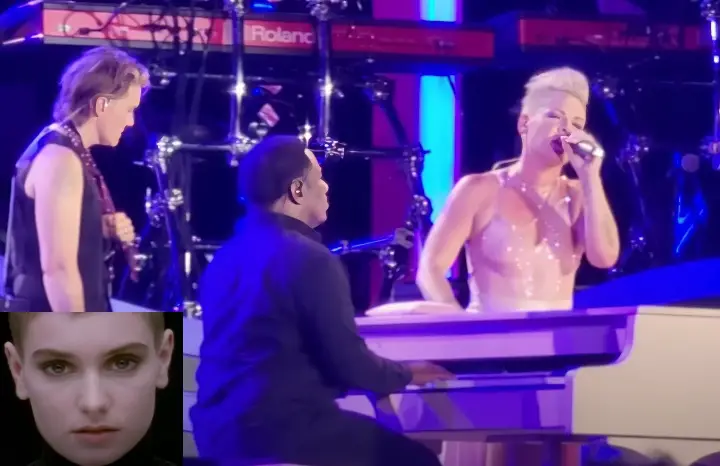 Since O'Connor's passing, numerous artists have recorded tribute videos in her honor, with Pink being one of them. The video below showcases the emotional depth and respect these artists have for O'Connor, as they perform her signature song. Pink and Carlile's rendition is not only a tribute to O'Connor's musical legacy, but also a celebration of the profound influence she had on artists worldwide.
The concert footage below is a poignant reminder of O'Connor's musical impact. Pink and Carlile's performance is a beautiful homage to a song that has touched millions of hearts worldwide. As you watch the video, you'll witness two artists uniting to honor a music legend, reminding us all of the timeless power of "Nothing Compares 2 U." Watch the video below and please leave us a Facebook comment to let us know what you thought!
Bonus Footage
In case you're wondering, here's the remastered original of Sinead's version.
Don't forget to hit the SHARE BUTTON to share this video on Facebook with your friends and family.