Animals that we keep as pets in our homes are always making us wonder about a lot of things. Like, we can never really tell for sure why they do what they do.
This is one of the most hilarious videos on the internet. The Golden Retriever in this video will make you think about a lot of things that we don't realize about pet animals. One of the things that we don't realize has to be the fact that they are always seeking fun and anything that would trigger their curiosity. Dogs out of every other pet animal are very curious and enthusiastic.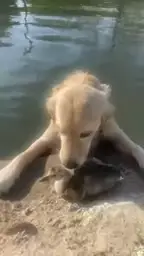 This golden retriever ran to the water to fetch her ball. But, what did she return with? A baby goose. And the goose just stays in the dog's mouth cluelessly. Many people started laughing out loud at this witty dog and her hilarious way of conducting things.
This is one of the funniest animal videos you will watch. Watch the full video below!
Please SHARE with your friends and family!