Animals can have as big of a heart as humans may have. In fact, sometimes, their selflessness may make a person shed a few tears of joy. Here's a video that must might do that for you.
A horse went viral on the internet for all the good reasons. People were loving the fact that an animal can be so helpful and nice to a human. A girl is trying to climb on the horse in this video. But, she fails to do so despite several tries.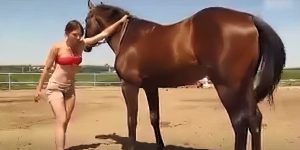 The girl does not seem to give up. The horse realizes her struggle and asks her to walk a little further. Then, he bends his knees so that the girl could climb on his back with ease.
This horse is smart and a very kind one. Watch the short video clip below and please leave us a Facebook comment to let us know what you thought!
Don't forget to hit the SHARE BUTTON to share this video on Facebook with your friends and family.