The Tonight Show has actually been on since 1954, but current host Jimmy Fallon has been delighting viewers everywhere ever since he took over as the ninth host in 2014. The popular late night show typically has multiple celebrities and talent guests each night and it has seen a number of iconic performances over the years.
In the video below, Fallon had invited one of the biggest names in Hollywood, Morgan Freeman. Freeman is known for his stellar acting skills: he's been nominated for a plethora of awards and has won one Academy Award and a Golden Globe award. He is widely recognized as one of the best actors in Hollywood with amazing performances in movies like The Shawshank Redemption, Seven and The Dark Knight trilogy.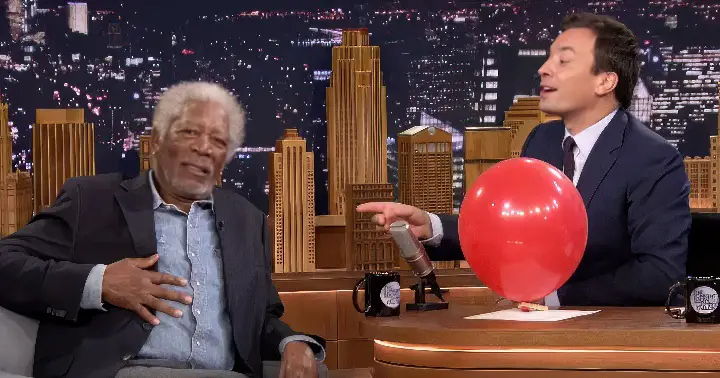 But perhaps the thing Morgan is most known for is his amazing voice, which is recognized and loved by millions. So when he was invited on the show, Fallon decided to play a little trick on him. He requested Freeman to inhale some helium and then speak.
Helium makes the voice high pitched, and Freeman was really not amused by the request. Yet, he finally relented, and the end result was just hilarious. The crowd laughed a lot, but Freeman said it was quite undignified. He really sounded totally like another person! Check out this hilarious clip below and please leave us a Facebook comment to let us know what you thought!
Don't forget to hit the SHARE BUTTON to share this hysterical video on Facebook with your friends and family.