Tom Hanks is one of the most popular and well-known actors in the world. From his humble beginnings in movies like Splash and the TV Show Bosom Buddies to his breakout role in Big to iconic performances like Saving Private Ryan, Hanks has established himself as an enduring star and has recently been awarded a number of lifetime achievement awards.
But Tom's roots are in comedy and this appearance on The Jimmy Kimmel Show takes us back to those days of laughter. He pairs up with his 8-year-old (at the time) daughter Sophie to make fun of beauty pageant reality shows like Toddlers & Tiaras–and they are indeed funny.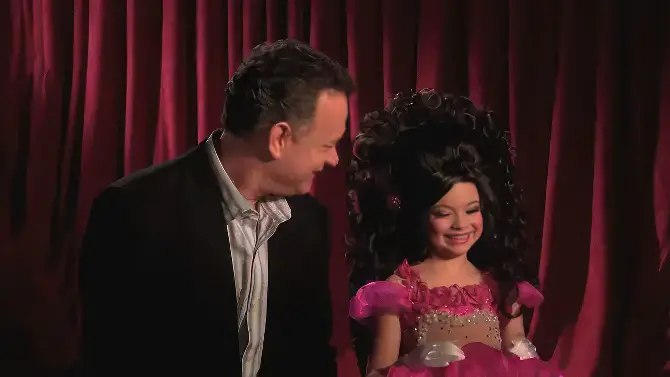 They make fun of all the various parts of those shows, from making the costume to learning how to walk and move–with Tom playing the "domineering mother" role, of course, and Sophie being the all-too-aware child who knows she's being used as a proxy for mom's own dreams.
This show made me laugh out loud and I'd suggest you should watch it on a bad day. Watch the full video below and please leave us a Facebook comment to let us know what you thought!
Don't forget to hit the SHARE BUTTON to share this video on Facebook with your friends and family.