A perfect 10.0 in women's gymnastics had never been achieved in the Olympics when the athletes filed into the opening ceremonies in Montreal, Canada, in 1976. But when they filed out after the closing ceremonies, the world had seen not just one 10.0 performance but seven, all from the same 14-year-old girl.
Nadia Comăneci was well known in the gymnastics world coming into Montreal and there were high hopes for her performances. But no one could have guessed she would shatter the 10.0 barrier an astounding seven times during those few weeks.
This video shows the first 10.0 performance: the uneven parallel bars, the same event where four years earlier Russian Olga Korbut had stunned the world with her amazing acrobatics at the 1972 Olympics. From mount to dismount, Nadia is perfect–and the judges reward her accordingly.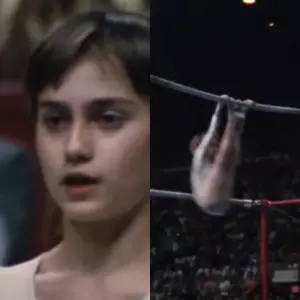 Nadia's amazing story doesn't end with this performance–in fact, it's only the beginning. She received six more 10.0 scores at Montreal and won the all-around gold medal and two others. Her life reads like a novel: she inspired a top ten single in the U.S., competed in other Olympics, defected to the U.S. and married another Olympic medalist. But those are stories for a different video.
This one is all about the moment where Nadia does what no Olympic gymnast had ever done before: earn a perfect score.
Please SHARE this amazing video with your families and friends!