During the pandemic, many people around the world joined in doing internet dance challenges. It was one of the ways to keep busy while you were cooped inside the house.  The Git Up Challenge, Quarantine challenges–it seems like there was a "challenge" for everything. But The Dairy Dance-Off, though, might have slipped by a lot of you.
These three sisters gained quite a following via this trend. The first video came all the way from a dairy farmer in Maryland Katie Dotterer-Pyle. In 2018, she posted a dance routine in her barn. Soon after her friend, Jessica Peters joined in and the Dairy Dance-Off came into existence.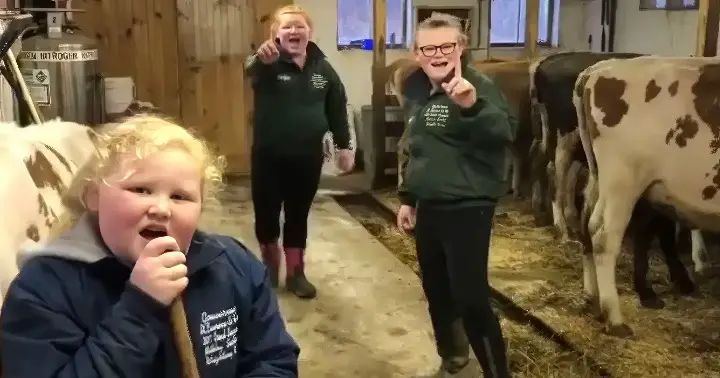 Many followed in the footsteps, while one family, in particular, is going viral. They are third-generation dairy farmers from Dekalb, Illinois, and they have captured the attention of thousands. The three sisters–Madisyn, Bailey, and Peyton Wright–decided to get in on the action. My guess is that it's because farming is not an easy job and these girls really needed to blow off some steam.
What I think is great about this video, however, is that these are clearly just normal girls taking a little time off from their daily chores to enjoy themselves. In an age where most internet dance videos are highly produced and carefully edited, these girls just want to dance! Watch the full video below and please leave us a Facebook comment to let us know what you thought!
Don't forget to hit the SHARE BUTTON to share this video on Facebook with your friends and family. And Don't Stop Believing!