This story just might bring you to tears. It features two loving basset hounds who stayed with their dying human sibling till the very end. When they figured out she had a short time left to live, they refused to leave her side.
"It was really nice," mom Mary Hall of Deluth, Minnesota, told ABC News. "It brought us a lot of comfort to have them [there]. But by the end of the first day, you could see they were stressed out and depressed. Normally, they're very happy-go-lucky. We knew they could sense there was something wrong." Five-month-old Nora Hall died on the 2nd of May after she suffered a stroke on the 6th of April. She spent three weeks at the hospital.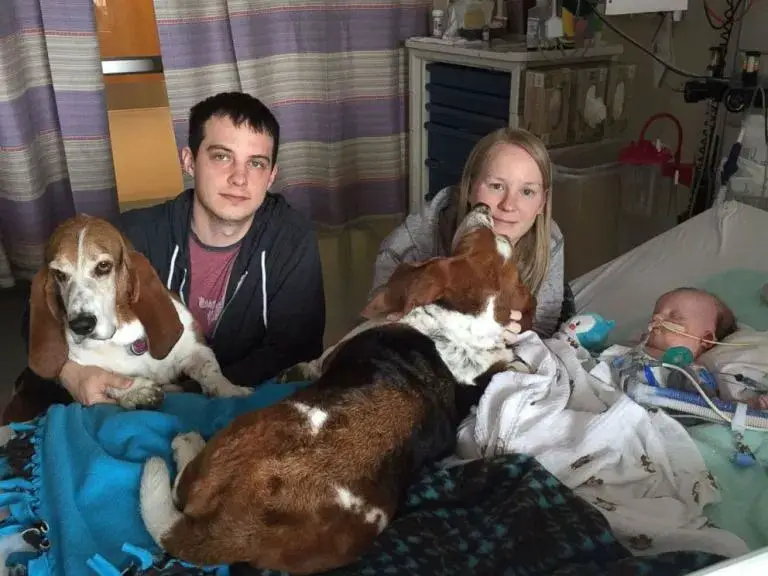 The stroke affected both sides of her brain, causing permanent damage. The family dogs, 8 year old Grumpy and Gracie, loved the little girl as soon as they saw her. "Gracie, especially, took on the role as second mother," Mary says. "Whenever Nora would cry, Gracie would run to see what was wrong. She was always, always by Nora and kissing her and making sure she was OK."
The Children's Hospital in Minneapolis asked Mary and John Hall whether they had any final wishes for their infant. "I asked, 'If you could let us have our dogs [at the hospital], we'd really appreciate that,'" Hall recalled. "I didn't want to go home and have them sniffing around for her and not knowing where she went. They lowered the bed so the dogs could lay with her and Gracie ran up and licked her [Nora]."
Hall says she is grateful to the hospital for honoring the special exception of having Nora, Gracie, and Grumpy together for the last time. They took photos of the emotional farewell and posted them on Facebook. "She was just a really happy baby,"Hall said. "Before we went into the hospital, she'd just start laughing. She was happy all the time."

Please SHARE this touching story with your friends and families!