Wedding dances have been around for centuries. In some cultures the bride and groom would perform a traditional dance during the wedding ceremony as a way to symbolize their love and commitment to each other. In other cultures, the couple would perform a special dance for the guests during the reception. Over time, the dances have evolved to include family members, friends, and other guests in the celebration.
An in the age of the internet, we've become used to groomsmen dances, but here's one that is a cut above–professional choreography and photography that makes it look like it's a talent show audition.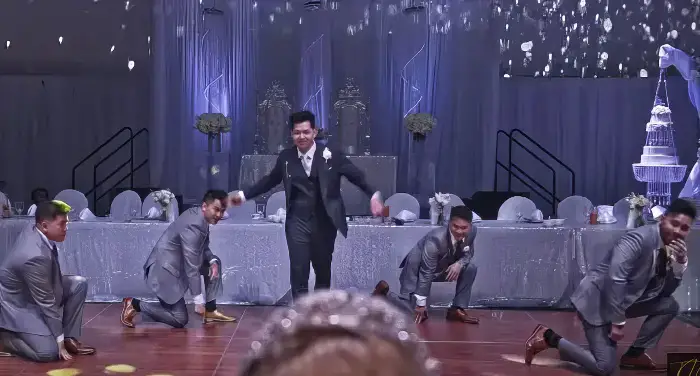 The Groom, Quoc, sits his new bride Stacy in a chair and announces that he and the groomsmen have secretly been practicing every weekend for a year to put together a memorable dance for the wedding reception. Then they launch into an epic dance number that clearly took a long time to perfect.
The groomsmen move through an extended medley of diverse music, including BTS's "Dynamite," "Senorita" by Shawn Mendes and Camila Cabello, "WAP" by Cardi B, the famous "Macarena" and finally "Memories" by Maroon 5, where they toast each other and the crowd. Watch the full video below and please leave us a Facebook comment to let us know what you thought!
Don't forget to hit the SHARE BUTTON to share this video on Facebook with your friends and family.