Wedding guests will never forget the moment the bride walks up to the altar. Her first look, her graceful walk, everything that comes after. And if things go wrong, the bride will find it difficult to comprehend.
This lovely bride walks down the stairs with grace. Everyone stands up to catch the first glimpse of her. And it is truly magical, but it only lasts a few seconds before she tumbles down the stairs and lands on the floor.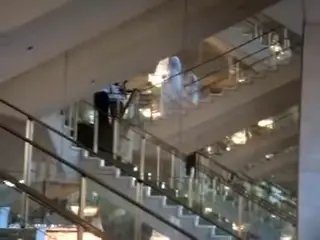 Guests were terrified as they rushed to pick her up, only to discover that she was not the bride. Instead, it is one of the best men dressed in the bride's gown who plays a prank on the audience. When his secret was revealed, he dashed out the door.
Whether it was real or a prank, the bride walking down the stairs did not enjoy the fall from that height. You can watch the entire video here:
And brighten someone's day by sharing this video.