Nothing can beat a baby's laughter. It is probably the most contagious thing in the world. And babies love dogs–they are drawn to their playful and gentle nature, and the way they show affection. This video below shows a priceless moment between a baby and his four legged sibling.
When Chopper the dog started showing off his hilarious moves in front of the camera, baby Rocco couldn't back his laughter anymore. This baby seems to be a big fan of his dancing buddy. And what can I say about the dog? Chopper is the cutest little thing I have seen in my life!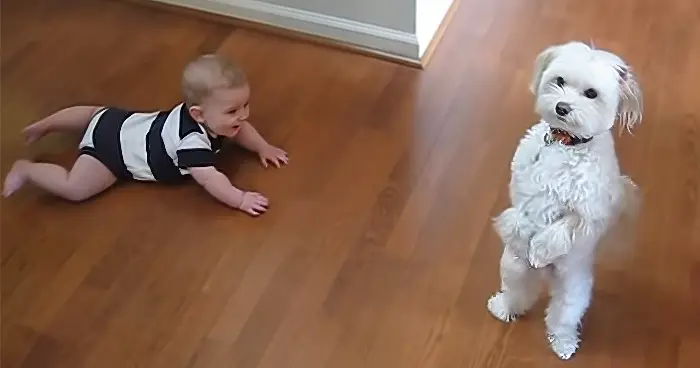 Thankfully, mom decided to record it all on camera for us! The moment Rocco started laughing, I was in stitches as well. And when the dog stopped, the way the little tyke taps on the floor makes you think he wants him to start again.
Watch the adorable duo in the video below and please leave us a Facebook comment to let us know what you thought!
Don't forget to hit the SHARE BUTTON to share this video on Facebook with your friends and family.