Being a law enforcer can be quite a risky job. You meet a lot of people, and not all of them are the easiest to handle. Moreover, some people can be quite rowdy, especially when it comes to following traffic rules. However, these funny pedestrians take the cake after attacking a deputy!
Anyone who's spent time on a turkey farm knows just how scary these birds can be. Unfortunately, this Ada County sheriff's deputy had to find out the hard way! While responding to a routine traffic incident in the rural roads of Kuna, Idaho, the cop came across a gang of 3 unruly turkeys. But what they proceed to do is hilarious, and it is all on camera!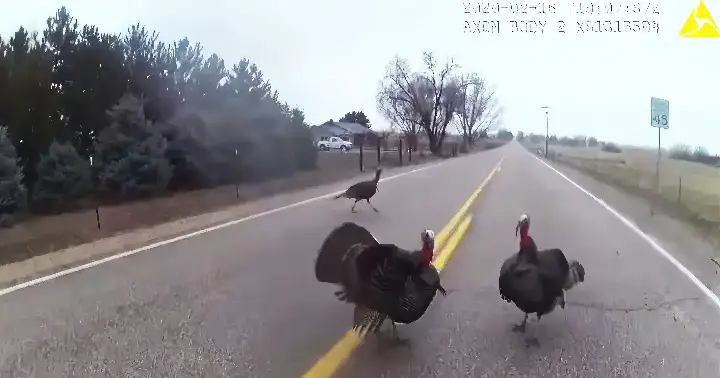 The deputy goes to the turkeys to get them out of the road for their own safety! However, the bunch refuses to budge. Moreover, they make a u-turn and run towards the deputy. The deputy even attempts to scare the birds by hitting his nightstick to the ground.
But it only works for a bit, and they resume their shenanigans! Furthermore, this goes on for a while, making the deputy give up and go to his car. Watch the funny video below and please leave us a Facebook comment to let us know what you thought!
Don't forget to hit the SHARE BUTTON to share this video on Facebook with your friends and family.