We're used to seeing very nice dance videos on the internet, but here's one that's unexpected. It shows a guy take a big fall, right in the middle of a competition. But it's what happens next that makes it worth watching.
This video was posted by Incognito Dance, which is a European dance training academy that teaches Latin Dance. It shows a man and woman dancing in a competition when the man suddenly slips in the middle of a twirl, falls to the ground and rolls over onto his back from the momentum.
Most of us would probably just give up at that point, but this guy has a better idea.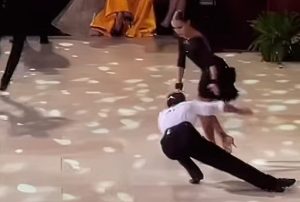 He immediately rolls up to his knees, bounces to the music and hops to his feet like nothing happened. He's basically saying, "Hey, I planned that!" We don't get to see enough of what happened to know how the couple did in the dance, but the certainly deserve the prize for most original, and possibly the best effort too!
This is fun. Watch the video below and please leave us a Facebook comment to let us know what you thought!
Don't forget to hit the SHARE BUTTON to share this video on Facebook with your friends and family.