Caleb Tyler Serrano looks like any other four year old kid, but he is quite a singer. When his church found out about his love for singing, they let him go up on the stage. The little guy sang a beautiful version of "This Little Light Of Mine." It looks like he really enjoyed his time in front of the congregation as well.
"This Little Light Of Mine" was written way back in 1939 by Avis Burgeson Christiansen. Folklore believes the foundation of the song came from the Bible verse, Matthew 5:16, "Let your light shine before men, that they may see your fine works and give glory to your Father who is in the heaven." I think Caleb did an awesome job here. He knows all the words by heart and his vocal ability is praiseworthy as well.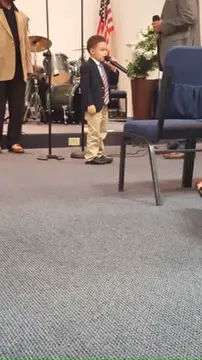 Watch this beautiful performance below! Did you enjoy Caleb's rendition of the song? Share what you think in the comments.
Please SHARE this amazing video with your friends and families!